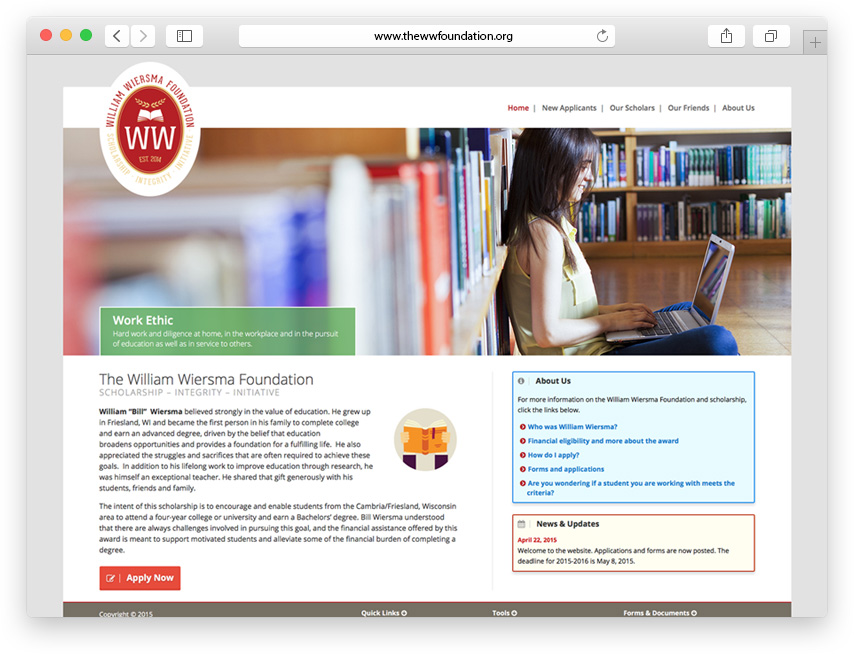 Susan Wiersma came to me in the winter of 2015 seeking a home for the scholarship funding being established in Wisconsin in honor of her father, the late William "Bill" Wiersma. The foundation, established in 2014, seeks to provide academic assistance to students in the Friesland, Wisconsin area who demonstrate strong academic values and integrity. Susan wanted a website that reflected those beliefs, while honoring her father and his alma mater (Wisconsin-Madison).
The heart of the website revolved around a comprehensive electronic application (9 pages in total), with the ability to save progress at any time. A multi-page, multi-part form was built to accomplish this – which let applicants submit past test scores, upload recommendation docs and FAFSA information, and fill out all other required information with ease. The logo was provided by PM Creative (Pat McAree). In addition to web development, a letterhead was created as well a branded envelope design for all official mailings from the foundation.
About the William Wiersma Foundation:
The William Wiersma Foundation was formed in 2014 to honor the life of Bill Wiersma and to establish a legacy in tribute to his belief in education. The Foundation is funded through generous contributions in his honor from friends and family members. To learn more, please click here.